Kevin Gleason
My art combines two of my greatest loves: exploring beautiful wild places on foot and drawing with a paintbrush. When I am out scouting places to set up my easel, I am searching for a combination of two things: an intriguing natural subject that speaks to me on a literal level mixed with a sense of light and atmosphere that tugs me emotionally.
I was lucky to grow up in South Lake Tahoe with miles of wilderness, mountains, lakes, and creeks literally in my back yard. I then came to Santa Barbara for college and again experienced living in a beautiful setting, this time with oak woodlands and the Pacific Ocean. The fun challenge for me as an artist is to try to capture the essence of this amazing world we share and translate it into paint in a way that communicates with fellow nature lovers. To me, a painting is a handcrafted translation of a moment in time. I like to hang them on my wall as a visual reminder to visit those places again soon.
Ray Cirerol

Cirerol was born in the Lincoln Heights neighborhood of Los Angeles, California.
He Studied figurative Old Mater Painting under painter Harry Carmean at the Art Center College of Design in Pasadena, California. Cirerol found a desire to communicate visually, and has been painting since.
His work reflects the Californian Mexican American strife and struggles being linked to a pre-disposed identity coupled with spirituality. Most all of his food paintings employ the image of the virgin Guadalupe and other religious symbolism.
His current works surround the plight of the Mexican American experience. Children behind barbed wires, figures riding the Mexican popsicle Paletas across the Rio River and figures being torn in different political directions. Cierol paintings are often mixed media. He incorporates tamale corn husks, beading and other materials in his hand made frames. When he was too poor for materials he used recycled canvas, and old AOL disc tins. His current work reflects on employment, food, immigration and family. He lives in Oxnard, California.
Jeremy Harper
California plein air artist Jeremy Harper was born on November 26th, 1969. He was raised a stones throw from the Pacific Ocean in Santa Barbara, California. Drawing and painting have been his main passions since early childhood. He attended local schools in Santa Barbara and decided to further his education in art at The San Francisco Art Institute. During his education Jeremy spent a summer abroad in China and the following summer in Europe, studying art from nearly every corner of the Earth. He majored in painting and worked on large abstract work stemming from the figure. Jeremy graduated from SFAI in 1994, and remained in San Francisco for two more years teaching art at the New Traditions elementary school.
In more recent years, Jeremy has been putting all of his energy into the local landscape painting scene in Santa Barbara. He has been a part of many exciting groups and one-man shows around Montecito and Santa Barbara County. Jeremy is a member of the Santa Barbara Art Association and the SCAPE art group. In April '09 Santa Barbara's illustrious OAK GROUP invited Jeremy to join their group as a permanent member.
Marilee Krause
Marilee Krause finds inspiration in nature and children's art, and favors working in series on paper using ink, watercolor, and pastel. She has been painting, drawing, teaching, and showing her work for 30 years.
Guadalupe Garcia Rios
Guadalupe Garcia Rios is an internationally acclaimed ceramicist. Her specialty is high temperature/high-fire ceramics. Fired at over 1250 degrees centigrade and lead-free. Garcia's designs are inspired in part by pre-Hispanic designs but also from the countryside and nature. The high volcanic peaks, lakes, wildlife and other environmental elements also figure prominently in her expressions. Her extremely three-dimensional work is crafted on a non-electric wheel and fired in a gas kiln. Her modern but extremely time consuming approach differs markedly from other ceramics.
JASON SANOVICH
Jason began creating ceramics while at high school in California's South Bay. After graduation, he studied ceramic classes in Santa Cruz at Cabrillo College earning an A.A. degree. He earned a B. A. degree in ceramics at Humboldt State University.
He practiced ceramics at the Hui No'eau Visual Arts Center in Makawao, Maui where he was influenced by different artists.
In addition to his stoneware represented at Letter Perfect Gallery in Summerland, California, Sanovich (Sanny) creates more unique pieces with soda and wood firings and also wood fires in anagamas (Kiln caves).
Sanovich currently lives and works in Mendocino, California.
LINDA MUTTI
Linda was born in Tucson , Az and moved to California at the age of 5. A passion for drawing and painting began in early childhood and continues to this day. The love of horses and the California landscape is evident in the subject of many paintings and drawings. Linda works in oil, pastel and pencil. She has studied under noted artist Richard McKinley, Albert Handell, Glenna hartman and Kim Lordier. She was accepted for an apprenticeship with muralist John Pugh. Linda is a winning Distinguished Pastelist member of the Pastel Society of the West Coast, Signature member of the Pastel Society of America, an Artist Member of the California Art Club, Master Circle Pastelist with the International Association of the Pastel Society, Associate of Distinction with American women Artists of the West, and founding member of PACC (Plein Air Artist Of the Central Coast) She is also a member of the Santa Barbara Art Association and SCAPE (Southern CA Artist Painting for the Environment) Mutti is part of many national and international private collections.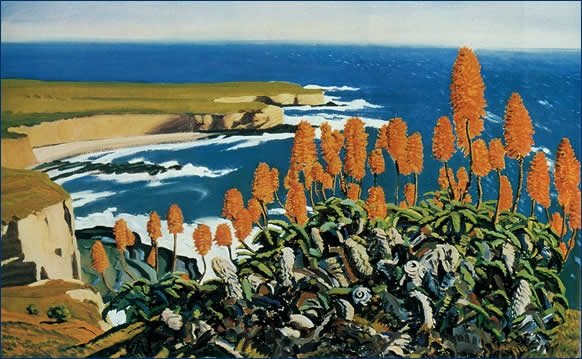 MICHAEL DRURY
Michael is a native Santa Barbaran. He received his education in the local school system, a B. A. in ART Studio at the College of Creative Studies, UCSB and an M.F.A. in Art Studio, UCSB. His commitment to plein-air painting began when he met Ray Strong in 1970 and virtually all of his work is generated out-of-doors. He has painted extensively in the high deserts of the Great Basin, the wild coast of California, his home grounds of Western Santa Barbara County, and the West coast of Ireland. He is a life-long surfer and founding member of the OAK Group, an association of environmentally active landscape painters in Santa Barbara.

Larry Iwerks
Larry paints watercolors and oil paintings from his home in Santa Barbara, California. Through educational art presentations and also aid in the form of financial support, Larry has been donating 50% of art sales to wilderness- related "Land Preservation" causes. many of his projects have been done in an effort to share the great American areas with current and future generations through a variety of formats including most recently, benefits for the Marin, Big Sur and Santa Barbara land trusts.